SCF Coding Academy - STEM Summer Camps
Monday, June 12, 2023 9:00 AM - Friday, July 28, 2023 4:00 PM (EDT)
Description
SCF Coding Academy - STEM Summer Camp
The Coding Academy at State College of Florida, Manatee-Sarasota (SCF) is offering in-person STEM camps for elementary, middle, and high school students this summer. The fun and affordable camps will feature a variety of STEM-related subjects taught in age-appropriate formats, with a focus on coding and robotics.
Full-day sessions for rising 6th to 11 graders.
Location: SCF Bradenton, 5840 26th St. W., Bradenton.
Dates: June 12 - July 28
Time: 9 am - 3 pm
Cost: $299 per week
Before and after care is available for 6-11 graders only!
Time: 8 am - 4 pm
Cost: $50
Each week of camp will be theme-based. Activities include robotics, coding, Minecraft, game design, and drones. The weekly camps will build on skills for returning campers and introduce new campers to beginner skills.
For more information and to register for the SCF Coding Academy's STEM Summer Camp Register Here.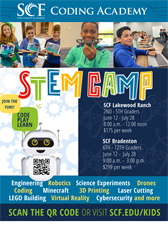 Pricing
Full days sessions for rising 6th to 11 graders at SCF Bradenton.
$299 per week
Monday, June 12, 2023 9:00 AM - Friday, July 28, 2023 4:00 PM (EDT)
Full-day sessions for rising 6th to 11 graders.
Dates: June 12 - July 28
Times: 9 am - 3 pm

Before and After Care is available for rising 6th to 11 graders only.
Time:8 am - 4 pm