GENERAL KNOWLEDGE TEST - ESSAY WRITING WORKSHOP at SCF
GENERAL KNOWLEDGE TEST - ESSAY WRITING WORKSHOP at SCF
Saturday, February 18, 2023 9:00 AM - Saturday, March 4, 2023 1:00 PM (EST)
Description
GENERAL KNOWLEDGE TEST - ESSAY WRITING WORKSHOP at SCF - LWR
Do you need to take the Essay subtest of the General Knowledge Test?
Are you ready?
The General Knowledge Test (GKT) has four subtests. SCF will help you prepare for the essay subtest offering a workshop at SCF Lakewood Ranch. Class work will focus on improving your essay writing skills. Class will be led by an instructor with writing training as well as K-12 classroom experience.
Saturday, February 18, 25, and March 4, 2023
9am - 1pm
Fee: $89.
Register Here.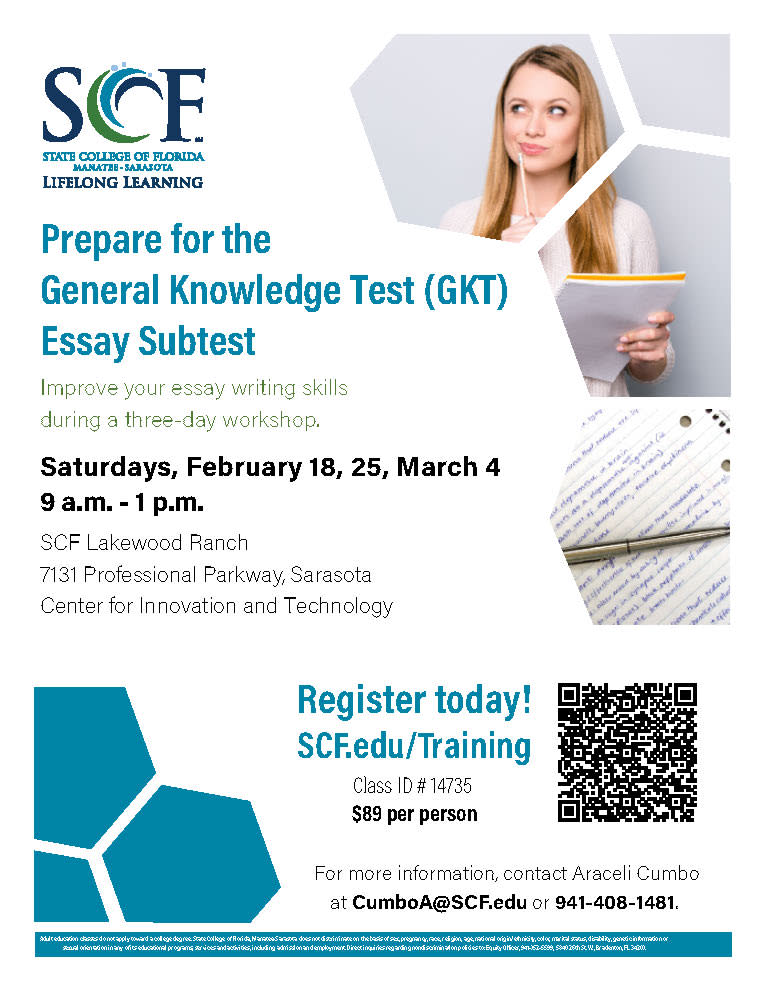 Saturday, February 18, 2023 9:00 AM - Saturday, March 4, 2023 1:00 PM (EST)
Saturday, February 18, 25, and March 4, 2023
9am - 1pm
Categories
Special Events